Kitchen Details
Dovetail Drawers
---
Built to Last

Dovetail drawer boxes are a high-end upgrade to the standard melamine or plywood drawer box. The dovetail joint, also known as the culvertail joint, is an ancient carpentry technique. This traditional type of artistry creates an extremely strong structure due to the unique shape of the 'tails' and 'pins' that hold the box together. The sloped design makes it difficult to pull the joint apart when assembled and virtually impossible once glue is added.
---
Technical Details

We create our dovetail dado joints in either 25mm spacing or 50mm spacing using a sophisticated CNC routing machine. All of our drawers are made from high-grade solid lumber and are sanded to a finished thickness of ⅝ of an inch. We use the standard heights of 4 ¼ inches and 8 inches, however any custom size can be created with an upcharge of 15%. All of our drawer boxes are constructed with ½ inch matching and prefinished veneer-core plywood for strength and stability. Boxes that are constructed with 25mm dovetail dado joints utilize ⅜ of an inch bottom material while boxes constructed with 50mm joints use ½ inch thick bottom material. The drawers are also clear coated with a durable, water-based lacquer finish. Our standard drawer boxes are made from maple hardwood, however we can build drawer boxes in any wood species upon request.
---
---
Warranty
Our dovetail drawer boxes are guaranteed to be free of manufacturing defects for up to one year after the
date of purchase. If any manufacturing defect does arise within the first year we will happily replace the product with proof of purchase.
Pricing
Please contact our order desk and we will send you a pricing sheet by email.
sales@marbel.ca
905-666-3367
---
Built to Last

Drawer Slides
We stock several types of drawer slides including BLUM Tandem Undermount slides and GRASS DynaPro Undermount Slides. Please enquire with our order desk for all other slide options. When you purchase drawer slides with the dovetail drawers, we can notch the drawers and install the clips upon request. If you are using your own slides, we will notch the drawers for the corresponding slides.
---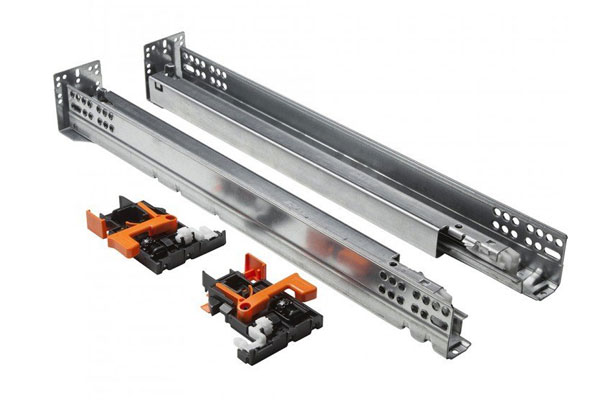 Branded Logos
Our craftsmen can brand your logo on our dovetail drawers if requested. A small, one-time charge applies in order to create the branding head for our branding iron.

Once the branding head has been created we can apply your logo to your drawers at no additional charge. Please email us all company logos in the format of JPEG, SVG, PDF, ESP or AI file.
---